Sachtler Flowtech 75 Tripod review
Updated 4th January 2023

Ever since I took up photography I have been constantly looking for the perfect tripod … one that works well for both landscape and wildlife photography, is compact and light enough to travel with, but rigid enough to provide a stable support in high winds. After only 30 years of searching I think I may finally have found it!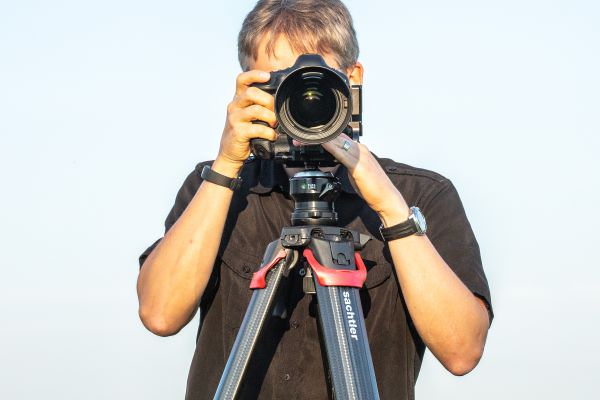 Updated 4th January 2023
Many years ago my research led me to a German company called Sachtler who specialise in tripods for video and cinematic use. They use a very different design to conventional telescopic tripods designed for stills photography, as each leg section is formed by a pair of narrow carbon fibre tubes. This design has much better torsional rigidity and is therefore less prone to wind-induced vibration. I bought one of their smaller models and was very impressed with how rigid it was. It really did make a big difference to the sharpness of my landscape images when shooting in windy conditions, especially when using telephoto lenses. Although not exactly compact, it was surprisingly lightweight. One downside of this type of tripod was the need to use a separate and rather cumbersome "spreader" between the legs to prevent the whole set-up from collapsing! This not only slowed me down but also prevented me from shooting at very low angles, so most of the time I did not use it. The result was that when this £1600 tripod blew off a Scottish cliff top into the sea, I replaced it with something more conventional!
For the next ten years I used a Really Right Stuff TVC-34L as my main tripod. This is still a very good tripod in most situations. However, I still find it lacking rigidity in really windy conditions – the sort of conditions where there is often the chance to capture my best landscape images! A couple of years ago I bit the bullet again and bought an even larger Sachlter 5590 tripod that I intended to use only when the conditions necessitated it. Again, in those conditions it has proved its worth many times. I really cannot underestimate the need for a big, heavy and rigid tripod when working in the windy conditions we regularly face in the UK, especially around the coast and in the mountains during the autumn and winter months. There's little point in spending thousands of pounds constantly upgrading to higher resolution cameras and sharper lenses if you don't have the necessary support to get the best out of them! As a landscape photographer my philosophy has always been to spend money on a decent tripod first, and only then think about upgrading my camera equipment.
I've always had a reasonable idea of what would make the perfect tripod and a few years ago I happened to notice an advert in Sachtler's Instagram page for a new model called the Flowtech 75. This tripod uses a very different design once again, and one that seems to solve most of the shortcomings of all the other tripods I have ever owned. I placed an order the same day and have been using this tripod for most of my photography for the last four years.
The Flowtech 75 is a large tripod. That is fine with me as it's necessary for any decent tripod to have a certain amount of bulk in order to be stable when working in extreme conditions. It's maximum height of 1530mm is just enough for me once the levelling base and ball head are attached, placing the camera itself just over head-height (I'm 1.82m). This is important if you ever want to be able to shoot from close to head height when you're working on a steep slope. Personally I don't like having to stoop behind a tripod simply because it's not really tall enough! The collapsed length of the tripod is 665mm (without levelling base and ball head), which is small enough to fit into a reasonable sized luggage bag (with padding around it) for air travel. However, it must be noted that if you're unable or unwilling to carry a sizeable tripod that weighs just under 4kg (with accessory handle, levelling base and ball head attached), then this probably isn't the one for you!
The tripod has a 75mm bowl for the direct attachment of a fluid video head (this is a video tripod after all!). This means that for normal stills photography using a ball head or similar you have to first attach a flat base to the tripod. This is easiest to achieve by using a levelling base, which fits directly into the 75mm bowl. This has the added benefit of allowing fast levelling of the camera for shooting panoramas. I use the Really Right Stuff TA-3 levelling base but the cheaper Manfrotto 520 BALLSH will also work.

The most obvious attraction of the Flowtech 75 is the ability to deploy each leg to maximum length almost instantly using one of three large release levers at the top of the tripod. Gravity does the rest as the smaller leg sections are free to move in and out of the largest section with no resistance. The release levers will clamp the legs into position at any height. This makes setting up the tripod an absolute breeze. I can set my Flowtech up from its fully collapsed position to maximum height (with legs spread ready to shoot) and back to its fully collapsed position again in 5 seconds! This is a huge deal when you're working in rapidly changing light, and can make the difference between getting "the shot" and going home with nothing. The fact that all leg adjustments are made at the top of the tripod is another bonus; as it means you never have to bend down to adjust the height of a leg. It also makes the tripod really easy to set up on uneven ground or a steep slope.

As a landscape photographer shooting only stills the main issue with previous Sachtler tripods was the need to use a mid-level spreader if you didn't want to risk the whole set-up collapsing in a gust of wind or if it were knocked. Fortunately the Flowtech 75 doesn't require a spreader (although one is supplied if you wish to use it for extra rigidity). I removed mine as soon as the tripod arrived, as the legs have three lockable angles set using buttons at the top of each leg. I find these angles perfectly adequate for the majority of situations. The legs can also be unlocked and positioned at any angle you like (although there's then the same risk of the tripod being knocked over). This works fine for close-up and macro photography though.
The Flowtech 75 comes with fixed metal "claw" spikes that provide excellent traction on a variety of surfaces. It also comes with add-on rubber feet that clip over the spikes – useful when working inside buildings and other locations where the spikes might cause damage. In the past I have always used 120mm long stainless steel spikes on my tripods. These are great when working on soft surfaces such as grass, leaf litter, moss and the like, as you can push them all the way through into the earth to create a very stable platform. This is the one thing I'm going to really miss, as it is not possible to fit accessory spikes to the Flowtech 75. Fortunately the clawed feet can be pushed a little way into the ground and the increased rigidity of the tripod goes some way towards compensating for this shortcoming.
Each upper leg section is made from a 70mm wide piece of rounded carbon fibre. Not only does this add considerable stability to the tripod, it also makes carrying it over your shoulder (even with the camera attached as I often do) much more comfortable, as the weight is nicely spread. I do not need to use leg pads with this tripod!
One of the most surprising highlights of the Flowtech 75 is the ingenious magnet built into the base of each upper leg section that holds the legs together when carrying. They are strong enough to grip the legs, yet not so strong that they make it difficult to pull them apart when needed. This is such a simple and effective solution to a problem that most tripod users will be all too familiar with. No more straps, clips or floppy legs for me!
There are three attachment points at the top of tripod that take accessories such as a tripod strap and carrying handle. The latter is something I would definitely recommend. I never use a tripod strap myself and tend to simply carry the tripod in my hand. The Flowtech 75 is comfortable enough to carry like this, but the accessory handle makes life much easier. I find it balances the tripod very nicely, which makes the whole thing seem lighter. Being part rubber it also has a little bit of give in it that acts quite like suspension! I have carried this tripod many miles with no issues at all.
In the past I have destroyed many tripod by using them in salt water. In fact I always used to keep an old tripod dedicated to salt water use. Don't underestimate the damage salt water can do to a tripod! I work in and around salt water a lot when shooting landscapes and shorebirds, so I was keen to see how well the Flowtech handled this environment and also how easy it was to clean. Sachtler assured me that it will stand up to use in salt water as long as it is flushed with fresh water straight afterwards. They also provide a maintenance guide on how to clean the tripod...which is to simply 'pump' the unlocked legs up and down in a bucket of fresh water. After several years of use I have to admit to destroying one Flowtech 75 through a build-up of salt corrosion. I would now recommend soaking the tripod in warm slightly soapy water after every use in salt water, and then pumping the legs as suggested previously. This will help to reduce the gradual build up of salt crystals inside the legs and should allow the tripod to last many years. I never use any lubricants on the tripod as doing so may reduce the effectiveness of the internal leg brakes. This basic maintenance is far quicker and easier than for a traditional photographic tripod, which requires a complete strip down every time it is used in salt water if it's to remain operational for long!
Summary:
Pros:
Very good rigidity (better than Really Right Stuff TVC 34L)
Ingenious magnets hold legs together when carrying
Reasonable maximum height
Reasonable collapsed length
Reasonable weight
Accessory carrying handle increases carrying comfort
Three set leg angles remove the need for a spreader
Can be set flat to the ground
Extremely fast to set-up and pack away
All leg adjustments are at the top (so you never need to bend down to adjust the height of the tripod)
Excellent build quality
Reasonable price (compared to alternatives)
Accessory spreader and rubber feet included
Wide legs make carrying over the shoulder much more comfortable, even with equipment attached
Easy maintenance after use in salt water
Cons:
Maximum height slightly restrictive for very tall photographers
Rigidity not quite as good as larger 5590 model (to be expected)
Some would consider the size and weight excessive (certainly not me!)
The inability to fit long tripod spikes (permanent short spikes attached) makes set-up on spongy ground difficult
Legs are deployed by gravity so the tripod can be a little noisy to set up if you're not careful - not great when photographing shy subjects
Maximum height: 1530mm (1620 with levelling base and ball head)
Collapsed height: 665mm (without levelling base and ball head)
Conclusion:
This is by far the best tripod I have used for general outdoor photography. It is versatile enough to be used for wildlife, landscape and close-up photography. It has the rigidity I need but is also reasonably compact and lightweight. The build quality is excellent and I can see it lasting for many years, even when rolling around in the back of my truck! The speed at which the Flowtech 75 can be erected to full height and fully collapsed makes it unique at this time. It is now the tripod I recommend to all my workshop clients, especially as it is considerably cheaper than the Really Right Stuff TVC 34L that I was using previously!

I am not affiliated to or sponsored by Sachtler and have to pay for all my gear just like everyone else, so please be assured that you can trust this unbiased review.