My Current Landscape & Nature Photography Equipment List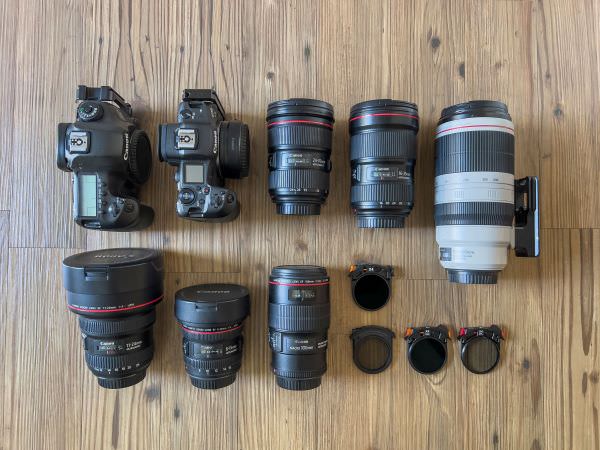 Updated 3rd January 2023
It should be noted that it is possible to take really good landscape and nature images using a relatively modest set of camera equipment. Professional photographers can justify the sometimes considerable cost of keeping up with the latest and greatest equipment in order to benefit from incremental improvements in performance and handling.

Camera bodies:
Canon EOS R5 - my primary camera body for both landscape and wildlife photography. This is used with a BG-10 vertical grip when shooting wildlife or Smallrig L-bracket when shooting landscapes and macro.
Canon EOS R7 - my backup camera body for wildlife photography and primary body when I need to use focus-bracketing for macro. This is used with a Slik i-Bracket.
Canon 5DSr - My backup camera body for landscape photography. This is used with a Really Right Stuff L-bracket.
Lenses:
EF8-15mm f4L - a surprisingly useful lens for landscape photography if you keep the horizon centred.
EF11-24mm f4L - my current favourite lens for landscape photography, now that I can use it with drop-in filters.
Laowa 15mm f4 macro - great for shots of small wildlife subjects within their environment.
Laowa 25mm f2.8 2.5-5X ultra macro - used exclusively on a focussing rail for tiny fungi and slime moulds.
EF16-35mm f2.8L mkIII - very sharp wide-angle lens that I use mainly for astro-landscape photography.
EF24mm f3.5L TS-E mkII - used for occasional architectural and landscape images when lens movements are required.
EF24-70mm f2.8L mkII - my least used lens for landscape photography, but useful at times to bridge the gap in focal lengths.
EF70-300mm f4.5-5.6L IS - used exclusively for shooting birds in flight from a moving boat where 100mm is just a bit too much.
EF100mm f2.8L IS macro - my main lens for general macro and close-up photography.
EF100-400mm f4.5-5.6L IS mkII - the best and most versatile lens I've owned and by far my most used lens for a variety of subjects.
EF180mm f3.5L macro - a useful macro lens when you need to work a little further from your subject.
EF600mm f4L IS mkII - my workhorse lens for bird and mammal photography.
EF1.4X mkIII - this extender is frequently used on my 600mm lens when photographing birds.
EF2X mkIII - this extender is used on my 600mm lens when photographing small birds.
Accessories:
Mindshift Firstlight 40L Photo Backpack - Accommodates a huge amount of gear whilst conforming to most airline carry on sizes.
Peli 1560 - Hard case with foam inserts to safely transport gear in an aircraft hold.
Stackshot automated focussing rail - used exclusively for photographing tiny fungi and slime moulds.
Godox V1 flashes with X-Pro transmitter - I much prefer these to Canon's own flashes.
i-Optron Skytracker Pro - used for wide-field astro-landscape photography.
Raynox DCR-250 - excellent diopter to increase magnification in macro photography.
Sachtler Flowtech 75 - my main tripod for landscape and nature photography.
Really Right Stuff TVC-3X - my lightest tripod, used mainly for macro and close-up photography.
Flexshooter Pro - my main tripod head when I'm travelling.
Really Right Stuff BH55 Pro - my main ball and socket head for landscape and macro photography in the UK.
Sachtler FSB-6 - excellent fluid head used exclusively with my 600mm lens